The No Bad Fat™ Reactive Lipid Breakthrough
CardioBar® Cholesterol Breakthrough
Welcome to our Future Food® presentation used to lowering cholesterol and showing the medical journal published, doctor designed, HOSPITAL APPROVED, way to lower bad fat with no side effects, using The Portfolio approach, with proven results with no side effects! Three Ways to Win With our Portfolio CardioBar®!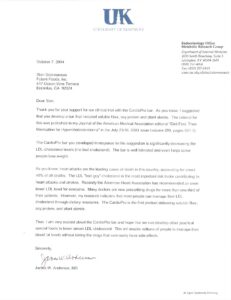 Founded in 1982, Future Foods® has continually innovated and developed a successful variety of natural product ingredients, formulas, and finished products.
The founder, Stan Solomonson, studied Pre-Med at the University of CA, Berkeley, graduating in 1969. He became licensed to practice holistic medicine, incorporating his Doctor of Chiropractic degree, with his personal interests in clinical and metabolic nutrition, therapeutic exercise/neuromuscular re-education, sports medicine, yoga and Transcendental Meditation.
These disciplines and skills were all integrated into combining effective stress reduction and relaxation therapy, with a balanced musculoskeletal and biochemical integrated approach to Wellness.  Entering clinical practice, building one of the first holistic clinics in the US in 1979, located in Menlo Park CA, next to Stanford University, staffed by two MDs, three DCs, two OMD acupuncturists (Lac), Psychologist, 2 RNs, and a Massage School, the need for Future Foods occurred.  In this clinical setting, clients presented themselves with health concerns that required alternatives to the drugs they were taking, due to side effects, or no effects.
Future Foods® was conceived in the 70's, grew up in the 80's, and succeeded in the following decades to clinically and commercially pioneer, and co-pioneer, multiple well known, successful products: Melatonin, Hyperimmune Transfer Factor, Isoflavones, Resveratrol, EPA/DHA, Glucosamine, Melaleuca/ Tea Tree Oil, 5' Nucleotides, Phytosterols, plus other innovations, topical delivery systems, and proprietary applications, and continues to do so with the latest in this series of innovations: CardioBar®, The NoBadFat™ Breakthrough. 
For further interesting stories in these decades of pioneering, please click HERE.
CardioBar®  is not intended to treat or prevent illness, nor is it presented as a replacement for medications. The Portfolio Diet has been clinically reviewed and suggested as an alternative option for people that have borderline risk factor cholesterol levels.  Because of this clinical review, CardioBar®  has been designed, formulated and created to contain all the natural ingredients contained in The Portfolio Diet. CardioBar®  is a unique functional food. The Portfolio Diet contained in CardioBar®  has been recommended as a safe alternative for anyone desiring to lower their cholesterol. Persons engaging in a self-care program should always seek the guidance and monitoring by their primary health care provider.